Each week, The Independent's travel team go head to head to see who can come up with the best version of a particular trip. Today we're tackling a last-minute half-term holiday.
Simon's choice: a bargain break in Nice
Price per person: £199 for flights and accommodation (based on two adults and one child)
You can almost hear the belts being tightened ahead of the half-term holiday, as families come to terms with the unhappy reality that a one-sixth fall in the value of sterling since the EU referendum means prices abroad are one-fifth higher than they were in early June.
But the financial rescue of Monarch Airlines means you can safely book with the carrier – which is now offering some outstanding deals in an effort to boost sales. And if you can avoid the traditional Spanish and Portuguese hot spots, fares are cheerfully low.
Flying from Birmingham to Nice on Sunday 23 October, returning the following Saturday, will cost just £112 return (or £99 for under-16s, thanks to the saving on Air Passenger Duty).
After the appalling massacre in July, some tourists are staying away from this beautiful, welcoming city. There is a heavy security presence to deter further attacks and hotel rates are much lower than normal. At the Ibis Aeroport/Promenade des Anglais (which you can walk to from both the airport and the city centre), a family of three can stay for those six nights for only £275 — making the total price a bargain £598 for two adults and a child. Children are well catered-for in terms of attractions and eating out — though like many British families you'll probably be doing lots of picnicking this half-term.
Spend a couple of days following our most recent 48 Hours. You might find it worth investing €38 in a 48-hour French Riviera Pass for adults, though many attractions are free for under-18s. Later, use the absurdly cheap local buses to see how the other half lives in Cap Ferrat or continue further to Monaco; you won't break the bank to get to Monte Carlo.
Simon Calder, travel correspondent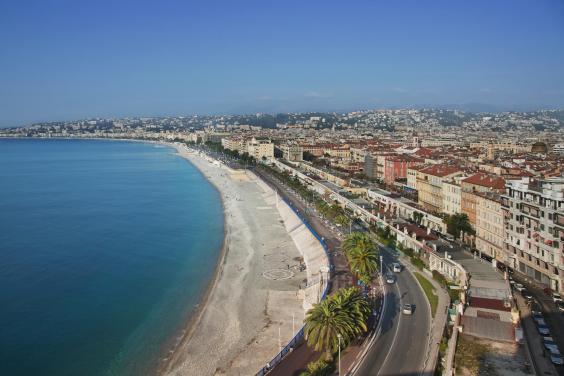 Nice (Shutterstock)
Nicola's choice: down on the farm in Sussex
Price per person: £134.50 for accommodation and car hire (based on a family of four)
Given the terrible exchange rate, many families might be planning to forgo a half-term holiday this month. But why not take a break in the UK instead? After all, it's simple and you don't have to worry about how many euros your puny pound will get you.
Fark Stay UK has a series of harvest-themed breaks this autumn that are ideal for younger children. Stay in a shepherd's hut in the grounds of Wimbles Farm, East Sussex, where you can pick your own pumpkin to carve and then help cook it as a pie or soup. Other activities including foraging in the hedgerows for ingredients to make into jelly, which can be taken home.
Four nights' self-catering in the hut, which comes with a kitchenette, wood-burning stove, hot shower, and breakfast essentials, costs £360 during half-term, with harvest activities an extra £25 per person.
The farm isn't particularly close to any train station, so travelling by car is your best bet. If you don't own one, try easyCar Club, a sharing-economy site that lets people offer their own vehicles for rent. For example, you can book a Vauxhall Corsa, based off Tottenham Court Road in London, for £178 for 22-26 October.
Nicola Trup, head of travel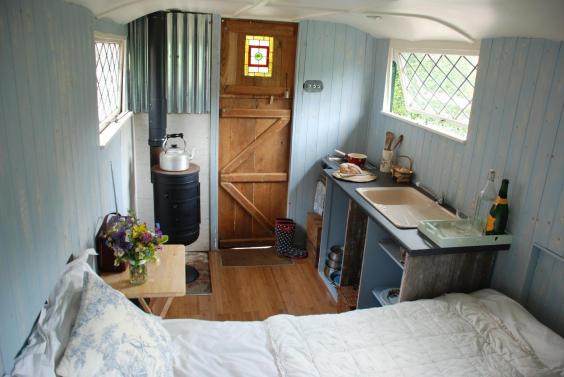 The shepherd's hut
Laura's choice: a French country escape – just close enough to Disneyland
Price per person: £193 for flights and accommodation (based on a family of three)
Any sane parent probably wouldn't want to spend a whole week in close proximity to Disneyland Paris, so a three-night trip to the French countryside, staying a few kilometres from the "magical" theme park, is just enough of a half-term treat for the kids without driving you nuts.
Book a cheap Monday to Thursday jaunt with easyJet Holidays, which offers return flights from Luton to Paris, plus three nights at the Kyriad Disneyland Paris hotel, for £193 each. The lakeside hotel has sprawling gardens and even a "mini educational farm" to keep the kids occupied, so you can enjoy that well-earned relaxation time in peace after all the Disney "fun". There's even a free shuttle bus between the hotel and the park.
The deal sees you take off on 24 October and lands you back in Luton on 27 October – giving the bonus of a long weekend to psyche yourself up before reality hits back at work.
The deal is room only and applies to a standard with space for three (a quadruple room, should you need it, costs an extra £1.13 per night). One-day tickets to Disneyland Paris costs from £45 for adults and £39 for children.
Laura Chubb, deputy head of travel
More about:
Disneyland Paris
Family holidays
half term
Reuse content