Between now and the prospective opening of a new runway at Heathrow at some time between 2025 and 2030, the great airport debate will continue even more noisily. Here are the key questions and their answers.
When do the bulldozers move in?
Certainly not in the year ahead, when a public consultation will take place. Expansion at Heathrow will then be put to parliamentary vote. Only then can the planning process properly begin. Work to flatten much of the village of Harmondsworth is unlikely to start before the end of 2018, with 2020 a more likely prospect. But much could happen between now and breaking ground.
Assuming the Government wins support from a majority of MPs, can it simply push the project through?
The Government will certainly demand faster progress than Terminal 5 at Heathrow, which took about 20 years between the submission of the planning application and the opening. But four local authorities that oppose expansion, together with the environmental group, Greenpeace, will mount challenges in the High Court that could derail the proposal. They will seek a judicial review of the decision on the basis that the decision is unreasonable.
If there is no successful challenge, and as expected the parliamentary vote supports Heathrow, then the Government will issue a National Policy Statement and invite Heathrow to begin the planning process. That in turn could be challenged legally. But if it proceeds smoothly, the new runway could conceivably be ready by 2025 — though the associated works, particularly on a new terminal, could take several years longer.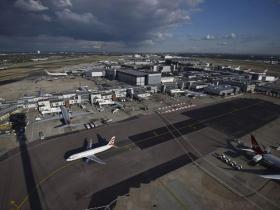 Read more
Heathrow's third runway has been approved, but take-off won't be easy
Will the number of flights increase overnight?
No. How the growth from 480,000 movements a year to 740,000 is handled is one of the key questions that has not been properly addressed. Airlines will simply not countenance being asked to expand their operation by 50 per cent instantly. Instead, it may be that operations at Heathrow are gradually increased with the use of "mixed mode" — landings and take-offs from both runways, simultaneously. That could add around 15 per cent of capacity, to 550,000 a year — though it would be extremely politically contentious. Instead, Northolt (a military airfield to the north of Heathrow) could be used for some short-haul links with road connection between the two.
Flybe said: "The Government should allow scheduled commercial flights to and from RAF Northolt to fast-track the benefits of regional connectivity. The new capacity at Heathrow will take a decade or more to build and Northolt is available right now."
Another option is to persuade airlines to start new services from Luton or Stansted with the promise of guaranteed slots at Heathrow when work is complete.
Assuming it goes ahead, will the new runway guarantee connectivity to more cities in the UK and "emerging markets"?
One of the sweeteners offered by all three of the shortlisted projects is significantly to increase the range of destinations served in the UK, with airports from City of Derry to Dundee holding out the hope of links with the expanded airport. It is likely that the policy statement will demand slots "ring-fenced" for services to and from regional airports.
Flybe, the UK's largest regional airline, has demanded that some of the new capacity should be "reserved for operators of regional aircraft at affordable prices".
Links to overseas destinations, though, cannot be prescribed by Government. Instead, airlines will decide where to fly. Just this week, British Airways has cancelled its link from Heathrow to Chengdu in western China, and replaced it with flights to New Orleans.
Read more
Heathrow may have been approved – but the real action is yet to come
Boris Johnson says Heathrow third runway 'undeliverable'
In choosing Heathrow, the government picked the wrong airport
Will fares rise or fall?
The short answer is: no one knows. Heathrow's third runway is by far the most expensive option of the three on the shortlist, with a current price tag of over £17bn. The question is: should current passengers pay for future development? That practice is common at a number of airports which levy a "development fee" on all passengers.
Airlines are firmly against that prospect, and are demanding that Heathrow's charges are capped at the present level. But deferring the airport's payback would involve Heathrow taking on a vast amount of debt which, if charges were constrained, could take decades to pay back. So there is likely to be some kind of compromise, which may allow for a modest increase in charges during the construction.
Once the new runway is up and running, the number of passengers should soar, providing much more revenue for Heathrow.
If low-cost airlines such as easyJet, and the long-haul operators Norwegian and WestJet, are able to compete with incumbent carriers, fares should fall, even allowing for extra charges.
Are Gatwick's plans now in tatters?
Not according to Stewart Wingate, the Chief Executive of the Sussex airport. "If the Government needs to call on us, then they can. I personally don't think another runway will be delivered at Heathrow in my lifetime. Heathrow's been in this situation twice before." However, he conceded that Gatwick would need Government support through the planning process.
More about:
Heathrow expansion
Heathrow third runway
Flights
Reuse content