Norwegian Air Shuttle ASA on Thursday announced plans to offer transatlantic flights on 10 new routes between the United States and Europe starting at £69, ramping up pressure on U.S. and European rivals. Norwegian's £69 fares will be for one-way tickets from UK and Irish destinations to New York, Providence and Hartford in the United States.
"I pay for what I want, you pay for what you want. We don't pay for what everybody else on the plane wants," Norwegian Air spokesman Anders Lindström said of its fares.
The burgeoning competition on transatlantic routes has also prompted action by more established European airlines.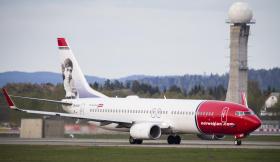 US pilots want to block expansion of Norwegian transatlantic flights
British Airways-owner IAG is planning to start low-cost transatlantic flights from Barcelona this year and CEO Willie Walsh said this month that the Norwegian carrier's model had pushed IAG to look at new ways to operate. IAG reports annual results on Friday.
Meanwhile, Air France, part of Franco-Dutch group Air France-KLM, is also pushing forward plans for a new low-cost unit, in a project dubbed Boost, while Lufthansa is expanding long-haul budget flying through its Eurowings business.
Norwegian Air's expansion strategy has helped it to more than double revenue since 2012. Last year revenue rose 16 percent to 26 billion Norwegian crowns ($3.12 billion) and the company has placed orders for 260 aircraft from Boeing and Airbus, which it will receive over a period of several years.
The company said that thousands of one-way tickets will be offered at £69 (or $65 starting from the US), with fares on the next pricing tier starting at $99.
By comparison, prices for a one-way ticket from New York to Dublin in mid-June with other airlines range from about $655 to $2,755 on the Expedia travel website.
To keep costs low, Norwegian said it will fly from smaller U.S. airports with lower fees, using narrow-body Boeing 737-MAX aircraft, which are due to be delivered later this year.
The planned U.S. destinations are Stewart International Airport in Orange County, New York, T.F. Green Airport in Providence, Rhode Island, and Bradley International Airport in Hartford, Connecticut
Norwegian will continue to fly wide-body Boeing 787 Dreamliners to larger U.S. airports, the company said.
(Reporting by Alana Wise in Washington and Jeffrey Dastin in San Francisco; Additional reporting by Victoria Bryan in Munich and Terje Solsvik in Oslo; Editing by Himani Sarkar and David Goodman)
More about:
budget airlines
New York
Norwegian Airlines
Reuse content